Lawendowa Osada is situated in the heart of Kashubian Switzerland. It is next to a fragrant lavender field surrounded by an old beech forest and close to three picturesque lakes and two ski slopes.
Lawendowa Osada
Awarded in numerous prestigious competitions and recognized
as the best organic and agritourism farm in Pomerania.
Lawendowa Osada is an organic agritourism farm with the largest lavender field in northern Poland. It has 40 beds on offer in comfortably furnished Lavender Chalets and cosy tents in Lavender Glamping. Tailor-made treatments and rituals in lavender wellness & SPA await our guests (wood-fired Russian banya, cold tub, hot tub with jacuzzi, relaxing massage, cedar wood barrel sauna, salt cave as well as a heated pool).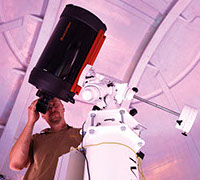 Amateurs and enthusiasts
of astronomy and astrophotography have at their disposal a professional astronomical observatory.
There s also a multimedia
cognitive-educational path,
a "go to" system and an option
to track celestial bodies.
The Best Tourist Product Certificate
of the Polish Tourist Organization 2018
Lawendowa Osada Workshops
Both the place and the atmosphere prevailing here facilitate developing
your interests and sometimes discovering completely new passions.
In Lawendowa Osada you can learn how to make natural cosmetics and,
under the guidance of your hosts, prepare a lavender-smelling dinner experiencing the atmosphere of Tuscany or the Balkans. There are also workshops on organic food and traditional methods of meal preparation.
The offer also includes workshops dedicated to women where, thanks
to a psychologist, relaxing treatments, a photo session or the production
and tasting of lavender wine, you can take care of your body and mind.
In the Lawendowa Osada Educational Section there
are numerous attractions awaiting children. Specially
designed workshops disclose the secrets of alchemic art where
you can make soaps, perfumes, bath balls and many
other wonderful things. You can also take the educational
path across the organic lavender farm with a stop
at the astronomical observatory and salt cave.
Culinary Delights and Products
Lawendowa Osada
and Lavandula Naturalis by Barbara Idczak, PhD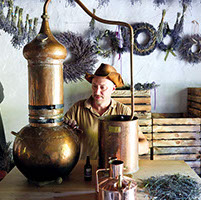 In Lawendowa Osada everything tastes delicious. The dishes and preserves
are real slow food in the best home-made form often with a touch of lavender.
The hosts serve organic vegetables straight from the home garden and, thanks
to the cooperation with local producers, there are also, among others, goat
and cow cheeses. Lavandula Naturalis products by Barbara Idczak, PhD are made on the basis of cultivated, ecologically certified lavender. The offer includes lavender syrup, various fruit and vegetable preserves with lavender, hydrolate and lavender oil, lavender and lavender-herbal-fruit teas, fresh and dried bouquets, wreaths, scented bags and plenty of other lavender souvenirs.
Lavandula Naturalis products by Barbara Idczak, PhD
as well as the meals which are prepared mostly from
the local produce form part of the Pomeranian
Culinary Heritage and have been recognized
as part of the "Polish Flavours" brand.
Lavender
Lavender has a number of beneficial properties,
both medicinal and relaxing.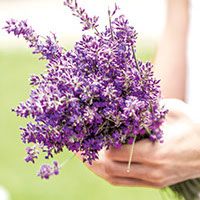 Since ancient times lavender has been used as a fragrance or a perfume component.
It has been widely applied in aromatherapy and herbal medicine. Lavender flowers show bactericidal and antispasmodic efficacy. They act as natural anaesthetics
and are anti-rheumatically active. Lavender slows the heart beat and increases
its immunity. It purifies the air. The strength of this plant stems from
the oil it contains hence the widespread use, among others,
in moisturizers, lotions and massage oils.
There are over 20 different varieties of lavender in Lawendowa Osada varying in the shape of the bush and the flower as well as the leave and flower colour. Guests can benefit from its healing and relaxing properties undergoing aromatherapy sessions, using the SPA products on offer or enjoying the meals with a hint of lavender in the immediate vicinity of the sense soothing picturesque field.
Lawendowa Osada is a certified organic farm
where the first and the largest lavender field
in the Pomerania region is grown.
It is also one of the largest in Poland.
Weddings
Lawendowa Osada is an ideal place
for a cosy private wedding.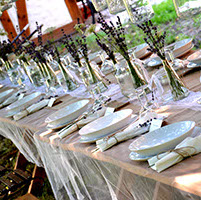 We are located within a beautiful area , where you can walk through fields of lavender,
and still you are surrounded by beech woods. That makes Lawendowa Osada a perfect place to organise unforgettable ceremonies or receptions. The Certificate of the Culinary Heritage of the Pomerania Region,
as well as the Certificate of the Taste of Poland, numerous rewards for being an ecological farm,
and, most of all, culinary talents of the hostess guarantee amazing delight to the palate.
Lawendowa Osada is an ideal place for a cosy private wedding. During that day the hosts
of Lawendowa Osada will take care of every detail the ceremony, making it an unforgettable experience.
Many newlyweds choose this charming place as a place for their honeymoon, because they appreaciate
the comfort and the luxurious quality of a stay and rest here, as well as a great, individually
chosen offer of the Lavender SPA.
The additional attraction of our guests staying in Lawendowa Osada is a possibility to take photos
in the middle of the field of fragrant, blossoming lavender, as well as in the outdoor-scenery
and the interiors of the settlement.
For our guests, we make their dreams come true, and we give them the world, a tempting,
beautiful Lavender World.
Prices
Chill out in one of our Lavender Huts or experience one of a kind Lavender Glamping!
You can choose among three, independent, all-year working huts: Lavender Hut Violet, Lavender Hut Green and Lavender Hut Blue. In each hut up to seven people can rest comfortably (up to 10 in Lavender Hut Green). During the summer season we also offer you a Lavender Glamping, one of the kind, which is a form of a luxurious tent with access to kitchen and sanitary facilities (accommodation for 4-5 people maximum). Price includes utilities, wood for heating, Wi-Fi and parking spot on the premises, towels and bed linen.
Prices between 10th September 2018 until 23rd June 2019 (low season). Price of one day stay (accommodation in one of the huts) throughout low season, excluding public holidays, Christmas, New Year's Eve and long weekends, is 400PLN gross, up to 4 people in a hut. Every additional person is charged 70PLN gross. Minimal duration of stay is 2 days (2 nights).
Summer season: 22nd June 2018 - 9th September 2018 and 23rd June 2019 - 9th September 2019. Price for one day stay (accommodation in one of the huts) in summer season is 450PLN gross, for up to 4 people in a hut. Every additional person is charged 70PLN gross. In summer season we offer minimum 7 days' stays (7 nights).
Glamping from 31st May 2019 - 30th September 2019. Price of one day stay in Glamping tent is 300PLN gross, for up to 4 people. Additional person is charged 50PLN gross. Minimum stay is 2 days (2 nights).
Animals. Stay of any animal is to be discussed on an individual basis. Considering the preference of other guests and our own dogs we can only allow mild, well-behaved and quiet dogs. We kindly ask you to take with you dog's leash and muzzle.
Additional information
- Prices are provided in PLN (gross).
- Check-in time possible from 3p.m., check-out until 11am the following day.
- Quiet hours from 10pm until 8am.
- Down payment confirming the booking is at least 33% of the total price of stay. In case of 2 days' stay down payment is 50% and is nonrefundable. The rest is paid upon arrival to Lavender Settlement or via bank transfer (with confirmation) a few days before the arrival.
- In case of the shortening of your stay, the amount for unused days is nonrefundable.
- From 1st June until 30th September tourist tax applies - 2,00PLN/person - Commune Council of Przywidz resolution.
Lawendowa Osada is a magical place filled with lavender scents, created by people with enthusiasm for guests who are looking
for a relaxing time in harmony with nature.
You are most welcome to visit this unique place
Barbara and Bartosz Idczak
owners of Lawendowa Osada
Lawendowa Osada
ul. Młyńska 6A, 83-047 Przywidz, Poland
tel. +48 511 975 929
e-mail: kontakt@lawendowaosada.pl